SEDATION DENTISTRY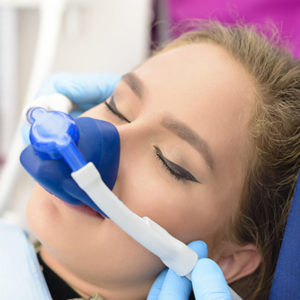 If you've been neglecting your dental and oral health due to fear of pain – or anxiety, sedation dentistry offers you the opportunity to safely receive dental treatments anxiety-free.
At RockSpring Dental Care, your well-being is our number one priority. We offer sedation dentistry to ensure that your visit is comfortable, painless and free of anxiety. We treat patients with dental phobias and anxieties, as well as people who just want to bypass possible discomforts during certain dental procedures. We offer sedation in our Forest Hill office through nitrous oxide, which is a safe and effective sedative mixed with oxygen. It's inhaled through a small mask that fits over your nose to help you relax for your procedure. This type of sedation is intended to relax you, not to put you to sleep.
Who Can Benefit from Sedation Dentistry
Adults who have:
fear or anxiety of the dentist
had a traumatic dental experiences
who gag easily
very sensitive teeth
complex dental issues that require lengthy procedures
Please contact us for a consultation to see if nitrous oxide would be a good option for you.