Win a $100 Amazon Gift Card!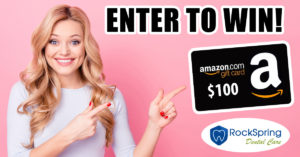 RockSpring Dental takes pride in offering affordable, family friendly dental services. We strive to improve dental and oral health care for everyone. It's vital to have good oral health during a pandemic, as poor oral health compromises the immune system!
We are giving away a $100 Amazon Gift Card each month in the hopes of bringing a smile to your face. The drawing is open to everyone, not just our patients! Make sure you follow the 2 easy steps to enter our drawing. (This contest is not affiliated with Amazon or Facebook.)
---
STEP 2:
COMMENT AND SHARE the Contest Post.
Post a comment under the contest post at the top of our Facebook page and share on your page. Add a happy photo in the comments for an extra entry!
Just complete these 2 steps on Facebook to be entered to win the $100 Amazon gift card in our monthly raffle. We pick one winner at the end of each month and post their name on our Facebook page. Good luck!